Do you support equal pay and equal opportunity for women in all institutions? Do you want to support the educational advancement of gig harbor girls and women? Do you believe in strong public schools that enable success for all? Are you concerned about protecting women from all forms of violence?
If so, we are the organization for you! We are a community of informed, active women dedicated to the public good. Since you have found our website, please take a few minutes to learn more about us. We hope that you will like what you see and consider attending a meeting and joining one of our interest groups.
---
Mark your calendars for the following events:
AAUW-GIG HARBOR
TBA, Gig Harbor branch birthday bash! Location: the home of Barb Schmit. We will let you know when this has been rescheduled.
Saturday, April 9, 9:00-2:30, AAUW-WA Annual Conference, to be held online.
Saturday, April 30, Annual Luncheon, Canterwood Golf and Country Club. It is wonderful to have our Annual Luncheon back on the calendar! We're thrilled to have Master Gardener, Author, and Humorous Guest Speaker, Marianne Binetti, join us again this year. Start planning and invite friends to enjoy a fun event that supports our branch, including our High School scholarships and Tech Trek.
---
If you would like to make a tax-deductible contribution to our Tech Trek STEM camps for middle school girls, please send a check made out to AAUW-WA Special Projects Fund to AAUW-Gig Harbor P. O. Box 2705 Gig Harbor, WA 98335. If you would like to support our branch's activities, including our college scholarships program, Tech Trek, and other projects, please use the Donate button on the right side of this page. These contributions are not tax-deductible. We very much appreciate your support.
For more information about Tech Trek, see our projects page.
---
Congratulations to our board and members for another successful year with AAUW! As with everything else, the pandemic changed our activities drastically. We learned how to use Zoom to keep our branch active. Whenever possible, interest groups held meetings virtually. Book group, for example, held many lively discussions of current and classic books. Programming offered by AAUW-WA also kept us engaged. Several members attended our 2021 virtual Lobby Day. Their efforts helped motivate legislators to pass key legislation, including bills to protect the health of pregnant women facing medical crises, extend Medicaid coverage for new mothers to twelve months, and increase tax credits for working families. Some members also participated in the first two Health Matters webinars, which provided a wealth of insight on gender equity in health care.
When we were still feeling optimistic about turning the corner on the pandemic, Claudia Thompson held a "Wine in the Garden" party at her home. We so enjoyed seeing our friends in person for a change. Claudia's skills as a gardener contributed to the success of the event.
Tech Trek also had to adapt to changed circumstances. This year, our Tech Trek camp was held virtually. Six girls attended from the Gig Harbor Branch. Kudos to our own Branch Members who helped to organize all of the materials and provided much of the support needed to make the statewide camp a virtual success. We're especially proud of the hard work of two of our members and provide a huge 'Thank You' to Bobbie Busch and Patricia Gwin. Their leadership was core to the success of camp. Kudos Bobbie and Patricia! We anticipate that Tech Trek 2022 will be held on the PLU campus. Working with middle schools from Peninsula School District, our selection process for 2022 will begin in January.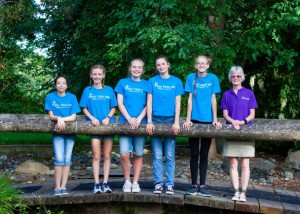 ---
PLEASE JOIN US!
AAUW-Gig Harbor exists for many reasons. First and foremost is that we are a group of like-minded women who enjoy getting together. We are eager to learn, strive to be engaged on the local, state, and national levels, and want to have a good time. We take stands on public policy, support our brightest and best female high school seniors with college scholarships, and support the Tech Trek program by making it possible for several of our local 7th grade girls to attend a week long STEM camp on a nearby college campus.
We're convinced that once you learn more about us, you'll be excited about what we do. Please take a look. We're eager to meet you!
Our Mission — our mission supports the mission of the national and state organization:
Advancing equity for women and girls through advocacy, education, philanthropy, and research.
The American Association of University Women (AAUW) is the nation's leading voice promoting equity and education for women and girls. Since our founding in 1881, AAUW members have examined and taken positions on the fundamental issues of the day — educational, social, economic, and political.